What should you do when your hair is frizzy and flyaway? Are you more prone to frizziness than big curls? Does the warm weather and humidity make your hair unmanageable?
This care system with Aqua Style complex helps frizz prone hair. It provides lasting stabilisation of the moisture balance of the hair and makes it less sensitive to changing environmental influences. Structural weaknesses are balanced out and smoothed. The hair is left looking shinier and is easier to style and it reliably prevents static build-up in a dry atmosphere and frizzing in high humidity.
Two days of natural hair without frizziness
The humidity rises and the hair gets frizzy – a vicious circle many are familiar with. The perfect solution to combat this is the ANTI FRIZZ system care with 48-hour long-term guarantee.
Which product combination is helpful?
The gentle Shampoo Anti Frizz cleanses and conditions with sweet almond oil and panthenol. Moisture-binding substances in the shampoo stabilise the condition of the hair.
Every second or third shampoo use the Conditioner Anti Frizz. This repairs the cuticle and eradicates structural damage. This results in easier styling without weighing the hair down. This means that even if there is a spontaneous change in weather or the air-conditioning is running at full force, the moist or dry hair cannot affect the styling.
In alternation with the Conditioner, the Anti Frizz Styling Balm gives the hair elastic hold. Panthenol adds the necessary dose of moisture and natural chitosan supports the hair. The balm remains in the hair where it takes effect until the next shampoo.
Particularly the dry ends enjoy Serum Anti Frizz, which also remains in the hair and makes it shine. In addition, the UV filter protects against further damage.
Thanks to this product combination of Shampoo, Conditioner, Balm and Serum, from now on the hair is neither frizzy in the Sahara desert nor in the Scottish fog – as long as the hair is regularly treated to Anti-Frizz care.
Join Our Club
Sign up to our exclusive newsletter to get access to all the latest product launches, expert tips, competitions and the latest from the world of
LA BIOSTHETIQUE UK.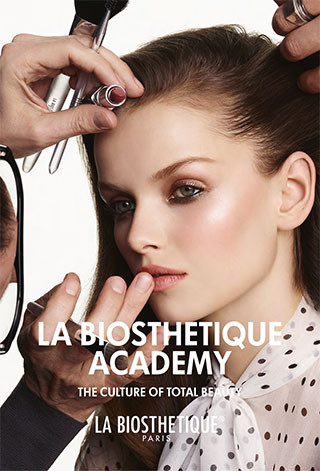 Download the latest course programme here.