Every year the talented LA BIOSTHETIQUE international artistic team work together to create a stunning seasonal collection of trend-led hair styles.    In the new Academy Collection LA BIOSTHETIQUE is celebrating the appeal of a very special type of woman.  Her radiance is irresistible.   She is beautiful and mysterious, sensuous and seductive and always in control.
The current Academy Collection captures this spirit, wild and strong-willed, sophisticated with a dose of punk and yet irresistibly sexy. These are looks for modern women who confidently gather inspiration from all sources through the decades, but with the latest techniques, using a wide range of colours that are based on classic trends and yet have just been completely revamped, completely unique and completely individual.
This statement is supported by the material of the Academy Collection. Photographed in the genre of stylish thrillers whose heroines love playing with fire highly professional and yet full of passion.
HANNAH
The modern punk. Striking and strong, disconnected at the top of the head, emphasised 80s graduation at the sides and an almost graphic fringe. Wild, sensuous, independent and sometimes independence comes from desire!  The colour is a glossy look in rich, shiny shades of brown supporting the strong feminine shape of this short haircut.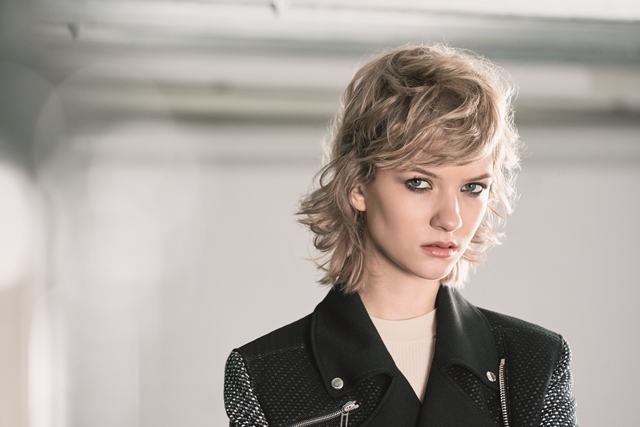 ANICA
The slim silhouette, the loosely defined side parting, the emphasised top and back of the head. The roots of the look pay homage to 1960s Cool Britannia, the disconnected sections at the top sides bring it bang up–to–date.  The colour is a graduation, tailor-made for the haircut with a new interpretation of a softly iridescent look in beige and cool blonde shades – pure sophistication!
MAJA
Soft, but with an emphasised, strong shape. The curly look with the slim top sides emphasises the top of the head is a contemporary interpretation of the 1960s back-combed looks with added texture. The colour is modern and fascinating.  A melted look composed of velvety beige-brown shades combined with seductive caramel and golden copper colour accents – an elegant game of curls and colours!
MAJA in red
Classics are timeless.   The lob that is slightly angled down to the nape softly skims the shoulders — an example of eternal beauty for precisely this moment.  The colour is irresistible, unforgettable and exclusive in this industry. Seductive, multitonal shades of copper with elegantly arranged colour effects. The newly created Sponge Coloring Technique offers scope for fresh gouache look interpretations and boosts brilliant colour effects with richly faceted progressions.
JEROME
Rockabilly is back, but it's been given a modern makeover.  Dramatic quiffs, contemporary disconnections, classic barbering. Extremely masculine, supported by male grooming.
Ask your LA BIOSTHETIQUE expert about the latest hair trend collection!