LA BIOSTHETIQUE develops heat-activated hair thickener
People with fine hair are faced with a dilemma when it comes to choosing their styling products. Although it is fairly easy for film-forming substances to enhance volume, this body is often to the
detriment of your hair's natural movement. As Alexander Dinter, Creative Direction of LA BIOSTHETIQUE, explains: "Many customers with fine hair avoid volumising products because they have already had bad experiences with stiff, unnatural, heavy looking results". In addition, women complain that many products don't offer very good hold. Even if there is more body right after styling, the effect is only very short-lived.
Hold with the push of a button
With the new THICKENING CREAM, LA BIOSTHETIQUE has developed a styling product that easily and reliably solves these problems. The heart of the cream is a special, thermosensitive polymer that coats the hair surface with a net-like structure. Its junctions consist of wheat proteins, cellulose and beeswax.
With the heat of a blow-dryer, the net slightly contracts and forms a tightly packed, durable yet totally flexible grid. It results in instantly visible and noticeable thickening of the hair, but leaves the hair as loose and shapeable as untreated hair. In addition, the cream has conditioning and protective properties: Cellulose increases the softness of the hair, wheat protein strengthens it, protects the cuticle and prevents damage. Beeswax, a practically weightless lipid, provides structure and flexible hold and protects against environmental influences and frizziness.
This antistatic effect makes the results last longer. In conjunction with heat, the effect complex of the new THICKENING CREAM noticeably increases the hair's body. Even the finest hair is given strength, volume and natural bounce. It is proven to increase the thickness of every single hair by 10 percent1. Nevertheless, the hair remains loose, naturally flexible and shapeable without stickiness.
"This is an excellent advantage of THICKENING CREAM. In contrast to many mousses and sprays, it makes the hair neither stiff nor inflexible", explains Alexander Dinter. The naturalness of the newly gained volume makes THICKENING CREAM a particularly attractive choice for both men and women who prefer an undone look.
Volume to go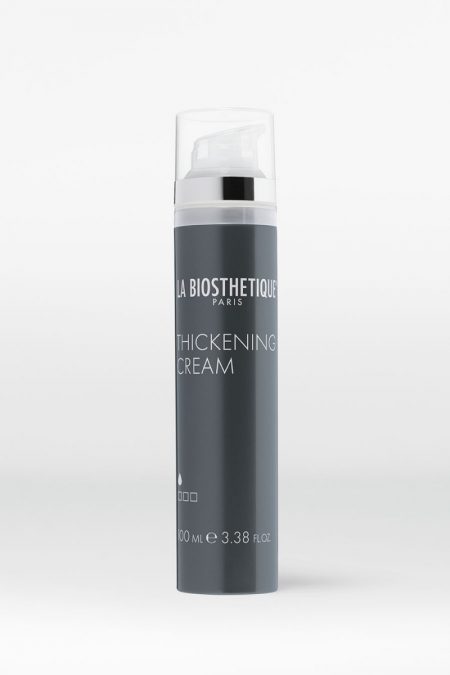 "Another decisive advantage of the new THICKENING CREAM is its ease of use", explains the Creative Director, who was closely involved in developing the THICKENING CREAM. "Application errors are much more common than you might think. But in the tests all participants perfectly used the cream without any instructions". After washing, you work a small portion (for shoulder-length hair you only need 2 ml) into towel-dried lengths and tips. Alexander Dinter adds that using the cream at the roots, too, doesn't enhance the result. Subsequently, you style the hair as usual with a blowdryer and brush. You no longer need to put the hair in curlers and let it cool down, back-comb it or use a round brush to create more volume – which is why THICKENING CREAM is a hot tip for people who don't have a lot of time.
"In the first application tests even we pros were impressed at how easy and fast THICKENING CREAM can create strength, stability and volume". To wash it out you only need to intensively cleanse the lengths and tips with your usual shampoo.
LA BIOSTHETIQUE THICKENING CREAM £19.75