Introducing the NEW Spring/Summer 2016 trend make-up collection!
Within this stunning collection, we are celebrating the magic and mysterious beauty of the night, inspired by the night life of the capital of elegance – the home of La BiosthEtique, Paris.
"Today's women effortlessly transition from day to night, from the office straight to the dancefloor. Our collection makes this really easy", explains International Product Manager Constance Constantinescu, "with little touches you can create highlights and turn a casual, laid-back nude look into an exciting evening look".
Innovation at it's best
Over the course of 2016 our LA BIOSTHETIQUE make-up packaging will be changing. The change will see beautiful new premium, modern packaging. Here at LA BIOSTHETIQUE we understand the importance of being able to offer your clients great service. With this in mind we will go above and beyond to keep you informed throughout the changeover process and hope that you can bear with us during this time. Please feel free to contact us here at head office or speak to you salon consultant for further information.
Get Cheeky
New radiance: Fresh spring cheeks thanks to Lips & Cheeks and shiny metallic rose lips enter into a delicate liaison and conjure up spring on pale winter skin.
In the night
The highlight is the eyeliner, but the monochromatic look is also effective because of the soft freshness and shiny lips.
Night Eyes
Precisely the right dose of glamour. The modern make-up technique subtly widens the eyeshadow — and is exciting without being over the top. Mysterious and exciting, and in combination with the softly emphasized lips still very fresh.
Make-up Collection Spring – Summer 2016
NEW! Lips and Cheeks
For lips and cheeks in rosewood – £31.50
NEW! Hydro Gloss
Moisturising water-based lipgloss in light beige – £19.75
NEW! Hydro Gloss
Moisturising water-based lipgloss in light mauve – £19.75
NEW! Hydro Gloss
Moisturising water-based lipgloss in watermelon – £19.75
Sensual Lipstick C142 Strawberry
Creamy lipstick in fresh pink – £19.75
Sensual Lipstick G326 Sandy Rose
Glossy lipstick with glitter particles in tender rose – £19.75
Smart Liner Brownie Lilac
Liquid long-lasting eyeliner in lilac brown – £18.50
Eye Performer True Mint
Water resistant pencil for eyes with an ultra-soft and unbeatable colour intensive texture, in mint green – £17.50
Magic Shadow Mono 38 Cappuccino
Powder eye shadow with tender colour pigments, in cappuccino brown – £20.25
Magic Shadow Mono 39 Cool Brown
Powder eye shadow with tender colour pigments, in cool brown – £20.25
Join Our Club
Sign up to our exclusive newsletter to get access to all the latest product launches, expert tips, competitions and the latest from the world of
LA BIOSTHETIQUE UK.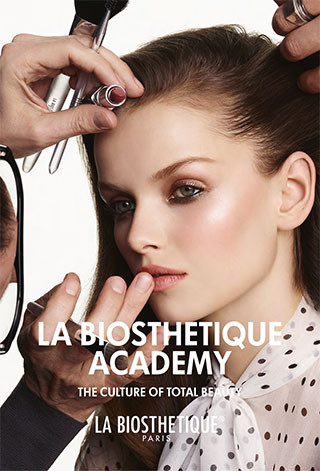 Download the latest course programme here.